Services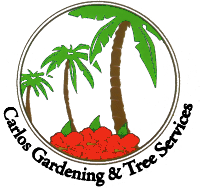 At Carlos Gardening and Tree Service we take pride in providing full service gardening programs for your home or small business. Our trained and experienced crews will perform the gardening tasks needed to maintain a beautiful landscape. From basic services like mowing, edging, and weeding, to properly trimming plants, bushes and small trees.

We can also assist you with many more landscape services...

Fertilizing lawns, roses, fruit trees, and palms.

Irrigation repairs.

Landscape Lighting repairs or maintenance.

Sod installation.

Annual Color.

New plantings.
Call us for a free estimate.

Areas Serviced

View Carlos Gardening in a larger map
We currently are providing our gardening services in the following cities: Carlsbad, Encinitas, Olivenhain, Leucadia, La Costa, Solana Beach, Rancho Santa Fe, Del Mar, Poway, La Jolla, San Diego, Vista and Fallbrook.
We have over 10 years of experience in providing gardening and tree trimming services.
Call us for a Free Estimate today and leave your gardens care in our hands.
Call Carlos: 760-518-6650 for your free estimate




Call: 760-585-5294 for billing Inquiries

Email at:

cflgardening@gmail.com